星期一, 05/19/2014 - 11:44

— 心桥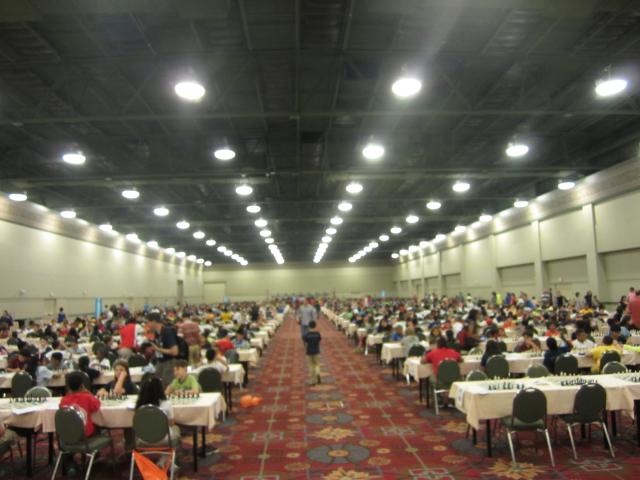 Return to the National
May 12, 2014
Ever since the surprising win of the K-5 section National Championship at last May's Super National in Tennessee, all members of the Gomes Team were looking forward to the 2014 National Elementary School Championship this May. The four children, Joanna, Ganesh, Jason and William, barely knew each other last spring when one invitational email from Joanna's father, Jay, connected them in January 2013. Without any head coach, pep talk or even team shirt, they headed for Tennessee after just one meeting last May. Weibel Chess Director Dr. Kirshner kindly let them use his team room at Nashville but even there each member needed to find their own way to persist under the frustration of a mere 0.5 point out of 4 after the first round. That was why the victory of the K-5 championship felt so special when they added the name of "Gomes," an unknown in the scholastic chess circle, to the list of Weibel, Mission San Jose and Regnart, as the 4th Northern California elementary schools that had won a national title over the past 10 years.
"The only thing harder than winning a championship is repeating it." So said Dominic, William's father, at the celebration dinner in 2013. He spoke from his experience during his youth when he participated in debate and academic teams that won championships but never repeated. "The competition will be stronger and more prepared, and others are more motivated to beat you. You can do it, but it won't be easy, each of you must be committed."
Each of our children worked hard over the past 12 months and their ratings steadily improved. Joanna broke 2000 after her third World Youth tournament, a big milestone that made her one of the youngest Experts around the country. Ganesh broke 1900. Both Jason and William broke 1700. I am very grateful that last year's Super National reignited William's passion for chess at a time when he was ready to quit. I'm amazed to see how he learned to focus more and slow down his game, with 3+ hour games becoming more common recently, which is night and day from his 15 or 20-minute games two years ago.
Last year, this team came together just three months before the Super National unsure what to expect, but this year there was a sense of mission. Last year, they barely knew each other, but this year they were friends and supportive to each other in local chess tournaments. They felt and acted like a team.
With Dallas as their home-field advantage, 789 out of the 2229 registered players, or 208 out of 604 teams, for the 2014 National came from Texas. They were trailed by the 611 players, or 84 teams, from New York. Only 77 players were from Northern California. While the more organized teams, such as Weibel and Mission San Jose Elementary, always come with their Directors and Head Coach, Gomes continued to have only the four players with their parents. There were no additional players if one of the four wasn't playing well. We did remember to bring a Gomes School spirit wear with us instead of scrambling right before the award ceremony for a uniform last May. Dr. Kirshner kindly opened Weibel Chess team room door to the Gomes players again. He had written on his famed chess blog in April that Gomes should win the K-6 section based on them having the highest average rating of all schools registered at the time.
Will Gomes team be able to meet the expectations?
* * *
The trip to Texas started with delayed or cancelled flights due to bad weather in Dallas on Thursday, May 8. Our family waited at the San Francisco airport with quite a few well-known scholastic chess players' families, including Joanna, David Pan from Mission San Jose Elementary and Pranav from Stratford. I joked with them that all children would play very well at this tournament because, as an old Chinese saying states, "all things that have good endings start with troublesome beginnings."
When we finally got to Dallas four hours behind our original schedule, William's grandparents were already waiting there with their van. They had driven from Reno for two and a half days to cheer for William and his 6-year old brother David. Grandparents have always been very supportive to the boys' interest in chess. Grandpa used to enthusiastically offer dollars for winning games until we shared how material promises often diminish children's joy in what they do. His presence, smiles and hugs are priceless rewards for them.
The Hilton Dallas – Anatole possesses the grandness that matches a national event. The unique Asian-designed atrium lobby is complemented by reflecting pools, a majestic moving chandelier and convenient seating areas. Home to one of the largest Asian art collections in the world, Hilton Anatole displays more than 1,000 pieces of fine art throughout the hotel, giving me the illusion of a museum. They also boast over 349,000 sq. ft. of flexible meeting space. The Trinity, Chantilly and Cortez Ballrooms where the K-5/K-6, K3, and K-1 sections were playing respectively still looked spacious after the 2229 players were seated.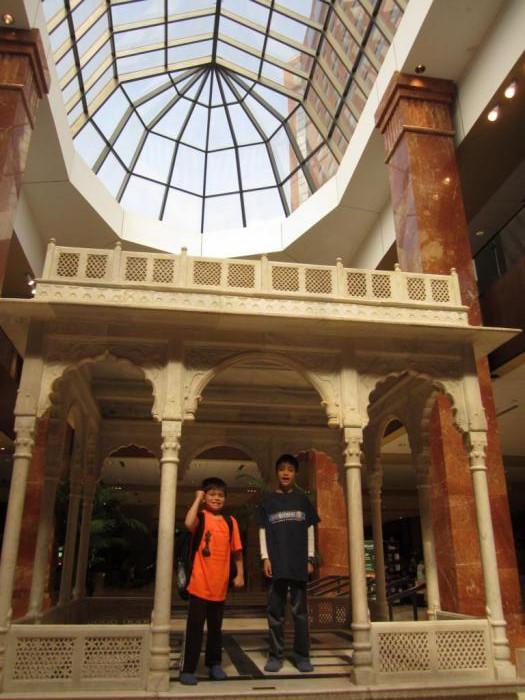 The Weibel Chess team room offered a sanctuary for our players before and between rounds as all the public areas were buzzing with excited children with their more excited parents. Chesskid.com was again a popular stop-by with laptops to encourage children play puzzles to win prizes. The hotel does not offer free access to internet in the guest rooms so we had to sit close to restaurants to get online. That proved very inconvenient for those parents who were planning to work while their children were in each round, and for children who used online chess sites to analyze games or practice tactics.
Everywhere I went on Friday morning, I heard parents' conversations about how difficult it was to get to Dallas with the delayed and cancelled flights from all over the country. However, I rarely saw any weary faces on children. On the contrary, our children truly amazed us. Anthony Zhou, a 6th grader from Weibel Chess, for example, had to get up around four a.m. that day to catch a flight after his original one on Thursday was cancelled. He arrived at the Trinity Ballroom half an hour into the first round and still won it as well as the following round that night. He continued with another win Saturday morning and two impressive draws with two top seeded players over 2100. I was so happy to see Anthony that day, with the bright sparks of passion in his eyes. Another Weibel play, Serafina Show, also played well after missing her first round due to a cancelled flight and won 4 out of 6 rounds.
Unlike last year, Gomes team started strong. K-6 had regular pairings so all four were paired against lower-rated opponents, and won. But for the second round, William was paired with the top rated player in this section, Brandon Nydick (2235) from New York Collegiate School. It was novel for him to sit in Board 1 at a national tournament and Dominic got a good picture for him there. He did play slowly but lost with 22 moves in two hours. That round proved tough for both Ganesh and Jason as well as both drew an opponent in the high 1300's from other states. If anything, we've learned that never to underestimate any lower rated players from other states as chess ratings can have broad discrepancies across states. What really woke us up was when we saw that the New York Collegiate School team, which passed us to the top, had two players over 2100.
A national title is indeed hard to defend.
Saturday started early as the 3rd round began at 9 a.m. local time, or 7 a.m. California time. Joanna, Jason and William won their lower rated opponents but Ganesh drew again. Ganesh was with his mother, Siva, as his father, Muru, had told us last May that pressure was difficult for him to handle when rounds had unexpected outcomes. But Siva, on the other hand, has been used to working under pressure at her job. Ganesh had not been able to eat or sleep well since he got to Dallas. Siva calmly went out to get food for him after the third round.
All three boys won their 4th round. Jason was especially excited as he had won an 1800 player within 90 minutes. His eyes were brighter than ever and his smile shone with confidence. Joanna faced a tough 1800 opponent and drew that game. Our team standing was back to the top at that point but everyone knew that the more challenging rounds were yet to come.
William was paired with an 1800 opponent for the fifth round on Saturday night. He lost in 27 moves in two hours. William had this game analyzed by Coach Demetrius from Weibel. He felt William's game was uncharacteristically conservative, as if playing not to lose, instead of playing to win. "If you play an opening gambit and your opponent accepts it, you should attack! You have only a short window of advantage while he is still developing his pieces." Instead of planning an attack, he played defensively, as if overthinking what his opponent might do.
"I better win my last two rounds, or I'm dragging my team down," William told himself before going to bed that night.
"Please just focus on your next game. One game at a time." Reminded Dominic.
After Jason also lost the fifth round while Joanna and Ganesh drew, the team got one point between the four of them and stood at the second place, 0.5 point below the New York Collegiate School team before the last day started Sunday morning.
Sunday came with bright sunshine and sweet greetings of "Happy Mother's Day" everywhere we went in the hotel. Dominic surprised me with a dozen beautiful red roses before David came out from the sixth round of the K-1 section with a win and a hug as his gifts. As I shared one rose with each chess mom that I knew around the hotel, the fragrance filled my heart with happiness. What a special way to celebrate being a mom when our children played their hearts out on their favorite game at a national tournament!
Joanna rose above her disappointing draw the night before and gained a smooth win in the sixth round. Both Ganesh and Jason won too. But William drew a 1400 player from Texas. He was noticeably worried, even after seeing the team returning to the first with 0.5 point ahead of New York Collegiate. Instead of napping in-between rounds as he did the previous days, he practiced tactics for the next hour before the seventh and final round started.
Chess, as an individual sport, is indeed unique as a team event. While each win is enjoyed four-fold by all four members, each loss, instead of being shared like in a baseball team, also four-folds. Each point or half a point counts. They had won their last national championship by a mere 0.5 point. Could they hold the lead this time?
William was paired with a player in his high 1300's from Delaware. But his score in this tournament so far (3.5) was a better indicator of skill than his rating. William looked ready and confident. We left him and our prayers at his board in the massive Trinity Ballroom.
For this last round, Ganesh had the toughest opponent as he was facing Brandon Nydick (2235), the top rated player from the New York Collegiate School.
Joanna ended her game first with another draw within two hours. We were a little taken back because she usually likes playing long games. But again, this was the last round. After three days, everyone was tired.
We were relieved after William finally came out with a win after almost three hours. Being the youngest and most inexperienced, he continued to have difficulty playing consistently. We were very happy to see that he took his time when it's really critical for the team.
Then another win from Jason! He was very excited after winning against a higher-rated Bay Area opponent that he had difficulty defeating in the past.
2.5 points. Now it's up to Ganesh's game to make the difference between the two top teams.
Siva saw my eyes and calmly told me that Ganesh would do well because he entered this round with excitement. "You can tell how he'd play on his face before the round even starts."
At 5:47 p.m., over 4 and a half hours since the round started, Siva texted me: "Ganesh drew."
We could finally jump up and down again. With this draw, New York Collegiate School team could only get a maximum of 3.5 points for this round, which would mean a tie with us as the champion. If they got anything below 3.5, it'd be a clear win for us.
David was not that happy. When he had entered last May's K-1 section at the Super National as an unrated player, without any formal class, he won 4 out of 7 rounds, surprising all of us. He was disappointed that his little "participant" trophy looked ignorable next to the Gomes team trophy last year, which was why he was determined to get a bigger one this year. With 4.5 points under his belt before the last round, his confidence was at all-time high knowing that another 0.5 would give him a 30th place trophy out of the over 300 players.
In spite of his enthusiasm at his board before the last round, David was no match for his opponent in the 1200's. He sat outside of the Cortez Ballroom with a cloudy face until he saw me. Then the rain came down his face uncontrollably.
I was not surprised that David couldn't win out. As much as he loves the attention that comes with chess, unlike his older brother, David only practiced sporadically each day. He liked playing online games but disliked the module work of solving puzzles, ignoring William's advice that tactic practice is the key for beginners. Although David's rating started with an impressive 638 after his first rated tournament last May, he has not improved much since then. He did amaze me with his ability to focus at the chess tournaments as he had no problem playing hour-long games at age 6 when William could hardly sit for more than 15 minutes at that time. But without proper training and willingness to work hard, that's as far as a little "talent" can carry him.
It is clear to see the effect of proper training on Erin Law, a Weibel first grader. Last May, David had met her at Super National and was able to win against her at that time. But following another year of systematic instructions, weekly tournament-style game playing and analysis by professional coaches under Weibel Chess' structured team, Erin has been improving steadily and is now rated over 900. Both Joanna and William have benefited from Weibel Chess training in their early years. With Erin's calm demeanor and strong attention skills, I will not be surprised if she becomes another Joanna in the near future.
As we were waiting for the final results, I saw another California player, Andrew Zhang Hong, analyzing his own last game with the kind of focus and ease that's beyond his age in Weibel Chess team room. Only 9 years of age, he has risen to approach a Master title within less than two years. "Geniuses are made, not born." Although Grandmaster Susan Polgar's father, László Polgar's thesis was proved not only by his three master daughters but also many researches, one has to recognize that some children are born with more gift from the get go. Andrew received 5.5 points and a fifth place in the K-6 section, confirming his place as one of the strongest scholastic chess players in the country.
Right before the award ceremony at 7 p.m., we saw our team being listed at the top of the K-6 section again. Although this was more expected than last year's, the excitement was fresh for everyone.
What a proud moment when our children got on the stage to receive their second national championship trophy Sunday night! With the courage and persistence at each round, they did it again! The scholastic chess school championship has been dominated by NY teams over the past ten years. Based on the USCF data, 25 out of the 43 school team championships in 4 sections (K-1, K-3, K-5, K-6) since 2005 were from NY. The children were very proud that they had left "Gomes" on the champion map.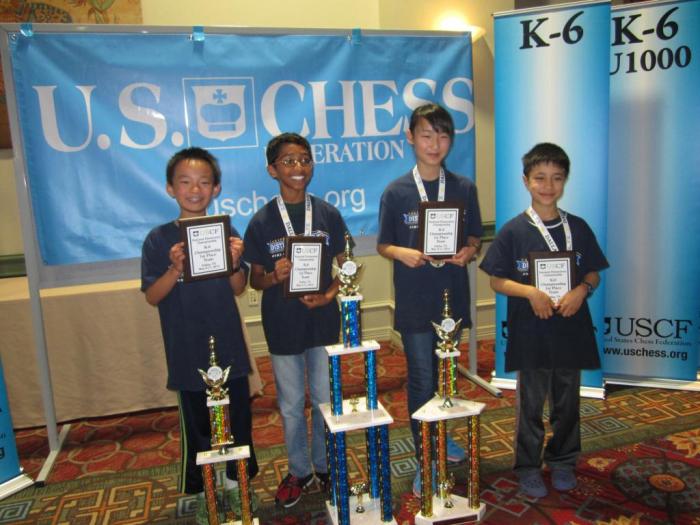 We are proud of our Gomes kids for having worked hard to prepare for and win another championship. It is really gratifying to see their hard work pay off. This is also a story of these four kids staying together through another year with their love and dedication for chess. This more than anything is what we hope they take with them as important lessons for success into their adult lives.
Although their combined attendance was small compared to Texas and New York State, all 77 players from Northern California did amazingly well. In the K-3 championship section, they took 7 out of the top 15 spots, including the individual champion and team champion (Mission San Jose Elementary).
#1 |BALAJI DAGGUPATI
#4 | MILIND MAITI
#5 | ANDREW PENG
Anvi Surapaneni, a fifth grader from Weibel, won the K-6 U1000 section with a perfect 7.0.
Aaron Hu, a second grader from Weibel, got 5.0 and his rating jumped almost 300 points.
David Pan, a fifth grader from Mission San Jose Elementary, won the 7th place in K-5 section with 6.0.
Those made us feel very fortunate to live in a supportive community where chess is a respected extracurricular activity. For example, Weibel and NorCal House of Chess scheduled two tournaments in April with the same time control as the National and opponents with similar ratings to prepare Fremont players. Jason's father, Haifeng, credited that as the best preparation for Jason before they headed for Dallas.
We were very happy to be part of the 2014 National. It takes a big, knowledgeable staff of experienced personnel to run the nine sections smoothly. We were all amazed at how punctual each round was. K-1 section was ran with special care for the little ones as parents were seated across the Cortex Ballroom while children who finished their games were announced promptly. The Chief TD, Bill Snead, and his right-hand man, Wayne Clark, as well as the cadre of 26 other directors and dozens of volunteers deserve a standing ovation.
Sitting in the Media restaurant after the award ceremony, the celebration was mixed with a bittersweet feeling. With their age differences, this is the last time that our four children could play on the same school team for a while as Joanna and Ganesh are moving on to Junior High in fall. We'll certainly miss each other and the friendship that had built during those two national tournaments. May their passion for chess persist so they can meet again as a team in high school.
Will they be able to defend their national title as a team again?
We'll find out in spring 2020!
Chess is Forever! - Reflection of an amateur chess mom http://overseaswindow.com/node/13207
What Does It Take to Make A National Champion Team? http://overseaswindow.com/node/8525